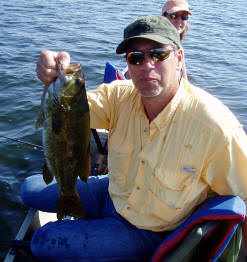 We have gathered a list of guide-tested tackle to help with your trip to Northern Minnesota. Our guides fish these waters just about everyday during the summer and they have tested different lures, colors and bait. Let their experience help.
The Tackle Box
The list below is comprised of general items that have proven useful over the years. Many of the items do have suggested colors. These are only suggestions, "hot" colors change constantly so don't be afraid to experiment. You also will want to tailor this list towards the type of fishing you plan to do, and don't forget to throw in a couple of your own secret lures. We also highly recommend using live bait. Nightcrawlers and ribbon leeches are the easiest to use and keep alive. We do have a small tackle shop stocked with all the items listed below in all the "hot" colors.
Here's What to Bring:
Spinning Rod and Reel: Medium action rod with 6-10lb. test line, depending on your skill level and desired species of fish.
Hooks: Minimum of 25, bait type with short shank in sizes 6-4.
Spinners: "Pre-rigged" hooks with spinner blades, beads and approximately 12 inches of line. Hook sizes from 6-4 with spinner blade colors in chartreuse, silver, hammered brass, yellow, red/white and black/white.
Jigs: 1/8 to 3/8 ounce sizes.
Floating Jigs: In orange, chartreuse and red.
Hair and Feather Type Jigs: 1/8 to 1/4 ounce sizes in yellow, orange, chartreuse, red and white. For Lake Trout a few 1/2 to 1 ounce jigs in black, white, yellow, red/white, and black/white.
Rubber Bodied Jigs: With an without spinner blades in 1/8 to 3/8 ounce sizes. Chartreuse, white, yellow, black, and brown (examples: Mr. Twister and Fuzzee Grubs).
Plugs: Both surface and diving. Sizes from 2 to 5 inches (examples: Rapalas, Lazy Ikes, Heddon Torpedoes).
Spinner Baits: Such as Mepps in sizes 1 and 2.
Sinkers, Split Shot, Slip Sinkers: Bring an assortment of split shot from "bb" size on up; slip sinkers should range from 1/8 to 1/2 ounce. For deep trolling bring 1 to 3 ounce weights.
Swivels: Two and three way type.
Bobbers: Slip bobbers work well and are the most functional.
Stringer: One or two cord stringers work well and are compact.
Needle Nose Pliers: For releasing fish.
Filet Knife
Suggestions for Specific Species:
Smallmouth & Largemouth Bass
Surface and diving plugs (notexceeding 2 inches); SPinner baits such as Mepps; hair and feather type and rubber bodied jigs; slip bobbers
Walleye
Sinking plugs(not exceeding 2 inches); Spinner in mid sizes; Floating jig heads; Hair and feather type jigs; Slip bobbers
Northern Pike
Spoons, Spinner baits, and Surface and Diving plugs in mid to larger size; Steel leaders from 6 - 12 inches
Pan Fish
Spinner and assorted jigs in small to mid sizes; Slip Bobber
Lake Trout
Spring - Surface and diving plugs; Spinner baits such as Mepps
Summer - Hair and feather type jigs in 1/2 to 1 ounce sizes in black, yellow, white, red/white, and black/white; Spoons and deep running plugs