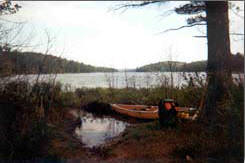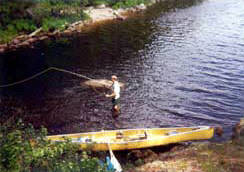 Timber Trail Lodge is a modern Minnesota Resort with a Full Service Canoe Outfitting Company. We offer several types of canoes for you to choose from and you can paddle into the Boundary Waters right from our docks.

We also have both a fishing guide and a naturalist on staff for those who want a guided trip.
---
North Kawishiwi River
Located just across the lake from our Minnesota Lodge, you can paddle from the resort or we can shuttle you across in our tow boat. A beautiful river with exceptional fishing, the North Kawishiwi is a main entry point into the Boundary Waters and offers many options for expoloration and wildlife observation. The North Kawishiwi is a wide river which feels more like a small lake.
---
Clear Lake
From the North Kawishiwi River, you can portage into Clear Lake. As the name states, Clear Lake is a scenic lake with very clear water. Known for it's Walleye fishing in the Spring, this lake is a fun and semichallenging addition to the North Kawishiwi River Paddle.
---
Pickerel Lake
Another option from the North Kawishiwi River is a portage into Pickerel Lake. Lying to the north of the river, this small lake has a campsite in the northeast corner which makes for a nice lunch spot. Throw out a line and you might catch a few Northern Pike as well.
---
Lake One to Timber Trail
This trip is for the adventurous. A full day trip from Lake One to the North Kawishiwi River and back to Timber Trail. This is a challenging trip which covers approximately 13 miles including 5 portages. Excellent fishing and scenery are found all along this route.
---
Hegman Lake Pictographs
Just a short drive from the resort will take you to South Hegman Lake where you will portage and paddle to some of the best pictographs in the Boundary Waters. Estimated to be 500 to 1000 years old, the paintings show a clearly drawn moose flanked by a dog or wolf, a maymayguayshi (man-like) figure and several canoes. A great day trip and your chance to see some of the history of the area. So pack a lunch and paddle to this historic site.
---
Guided Trips
We offer both guided canoe fishing trips and Naturalist Trips into the Boundary Waters Canoe Area. We also have a scheduled guided group trip with our naturalist once a week. If you are interested in a guided trip be sure to "book the guide" when you make your reservation.
---
Other Paddles
These are just a few of the paddling options available to you during your stay at Timber Trail. We have endless paddling ideas, so if you have any questions just ask - we're here to help.
---
Timber Trail Services
Canoe Rental

Water and Land transportation to and from your entry and exit points

Maps and routing suggestions

Bait and Tackle Shop for the avid angler (view tackle suggestions)