Kawishiwi River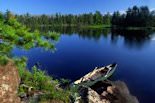 he Kawishiwi River is a slow moving river that goes from Lake One in the Boundary Waters to Farm Lake and Timber Trail Lodge. We have direct access to the Kawishiwi River from our resort. You can paddle from the resort or use one of the canoes we have staged on an island near the mouth of the Kawishiwi River. You can spend from one hour to a full day paddling this river. Hardy paddles can enter at Lake One and paddle and portage all the way to our lodge. Less experienced paddlers or family groups can enter from Farm Lake and spend as much time or as little time paddling the Boundary Waters as you desire. You can pack a lunch, observe the abundant wildlife, have an island picnic, fish, or portage into one of the other remote lakes you can access from the Kawishiwi River. Many guests come to Ely but never experience the Boundary Waters. Here at Timber Trail Lodge we make it easy for you to explore a portion of this unique wilderness.
Hegman Lake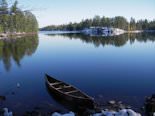 The entry point for the Hegman Lake day canoe trip is a short drive from the resort. You can transport your own canoe (we are experts at helping you do this), or arrange for us to transport the canoes needed. The highlight of this trip is your opportunity to view 10,000 year old Indian pictographs.
Once you arrive at the entry point there is a very short and easy portage to the lake. There is also one other very, very short portage between two lakes that you will need to navigate. Great scenery, fishing, swimming and a relaxing paddle will comprise this very enjoyable Boundary Waters canoeing experience. This trip is highly recommended.
Lake One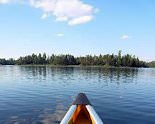 This entry point into the Boundary Waters offers several options for exploring the Boundary Waters. From Lake One you can explore lakes One, Two and Three, or paddle the Kawishiwi River back to the resort. There is excellent fishing in all of these lakes and river. The scenery is fantastic. The Lake One entry point is a ½ hour drive from the resort. Again, you can transport you own canoe or arrange a canoe transport through us. This would be a very nice but more ambitious canoe paddle than some of the other trips we have highlighted.
Here at Timber Trail Lodge and Boundary Waters Outfitters we service all Ely entry points into the Boundary Waters. We are a full service canoe trip outfitter and can accommodate almost any request you would have for designing you own Boundary Waters canoeing adventure. Here we have highlighted only a few of the canoe trip options available to you. We always recommend to our guests that they consider entering the Boundary Waters Canoe Area Wilderness while guests at Timber Trail Lodge.