Why choose Timber Trail Lodge & Resort?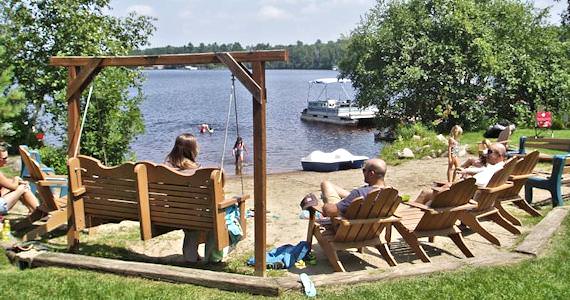 Ely, Minnesota is blessed with many fine resorts and lodges. Each is unique in many ways offering different experiences and amenities. We recognize that not every resort is ideal for each visitor to Ely, depending on wants and needs. We want all Ely travelers to experience a wonderful vacation, and choose the Minnesota resort that best meets their expectations.
Ely Minnesota is unique in that we are located in the Northern most portion of Minnesota, and have access to the Boundary Waters Wilderness Canoe Area. The Boundary Waters is the largest wilderness east of the Rockies, and was selected as one of the "fifty places in the world a person should visit in their lifetime" by National Geographic Magazine. Many families seek to include a Boundary Waters experience in their family vacation, and here at Timber Trail we offer both day and overnight canoe trips into the Boundary Waters.
About Us
The Forsberg family moved to Northern Minnesota in 1994. Our son Bill Jr. was just graduating from the University of Cincinnati and soon joined his brother (Brian, a 7th grader) in the management of the family's new adventure Timber Trail Lodge. Daughter Lynne spent her summers helping the family at the resort until she graduated from the University of Illinois. After graduation, she remained in Illinois and eventually married and settled in the Chicago area.
Bill Sr. is a graduate of Ithaca College. Our summers were often spent visiting the Adirondacks and enjoying the wilderness activities found there as well as many summers in the Finger Lakes region.
After college Bill served one year overseas as a Lieutenant in the Army Security Agency in Korea. Upon completion of his military commitment with the U.S. Army, Bill pursued various career opportunities while Marge concentrated on raising the family and on her career in primary education. Bill spent the majority of his career in retail, and ultimately retired from the corporate world as the V.P of Stores for a national retail chain of specialty stores.
In the year 2005, Brian graduated from the University of Minnesota Duluth and joined his parents and brother in the management of Timber Trail Lodge.
Son Bill ultimately founded and developed his own business, Boundary Waters Outfitters, which has become an integral part of the family's pursuit of offering a wide range of vacation opportunities for guests visiting Ely, Minnesota and Timber Trail Lodge.
The family has developed roots in Minnesota as we have come to love and enjoy Ely, Minnesota and the wonderful life this spectacular wilderness area offers ourselves and those who come to visit our Lodge, Ely and the Boundary Waters Wilderness Canoe Area.
It is the many returning guests we have had the wonderful opportunity to meet that have ultimately provided the greatest enjoyment for the family here at Timber Trail Lodge and Boundary Waters Outfitters. We hope you will join us for a wonderful wilderness vacation.