Fishing the Chain Of Lakes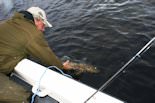 Timber Trail Lodge and Boundary Waters Outfitters are located on a chain of 4 interconnected lakes. We have 11,000 acres of water to fish right outside our front doors. The chain includes Farm Lake, Garden Lake, White Iron Lake and South Farm Lake (which is in the Boundary Waters). All are accessible by motorboat, but South Farm Lake is restricted to a limit of no more than a 25 HP motor with a motor permit that we can provide with notice.
Why Fish the Chain Of Lakes!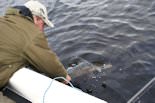 Northern Minnesota has some of the finest fishing in North America. The Boundary Waters is unsurpassed in its beauty and abundant wildlife. Our Chain Of Lakes borders the Boundary Waters. We are as close as you can get to this wilderness which has been named "one of 50 places a person should visit in their lifetime". For sure the fishing pressure is greater outside the Boundary Waters, but our guides will often tell guests the fishing on the Chain Of Lakes equals that of going into the Boundary Waters. Guides do help, because there are good places to fish, better places to fish, and the best places to fish. We will help with advice, maps and the latest news, but a day with a guide can bring a lot of surprises and smiling faces.
Species of Fish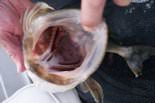 The primary species of fish our guests target is the Walleye. The Walleye is very tasty, a challenge to catch and a heart stopper when you catch a large one. We also have Northern Pike, Small Mouth and Large Mouth Bass, Crappie and Bluegills along with a few Perch. The largest Walleye this past summer was 32" and the largest Northern Pike was 43". We do have large fish in the chain. Now for those guests seeking Muskie, Lake Trout, or Rainbow Trout we can suggest some local bodies of water easily accessible for a day fishing trip off the chain. Any of these day trips can be guided or self guided. For more information on our Species of Fish, visit www.minnesotafishingresort.com.
Features of the Chain Of Lakes!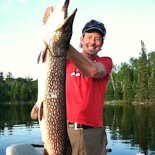 What makes our Chain Of Lakes so enjoyable is:
The chain is never busy with a lot of boats. You see a lot of undeveloped shoreline and you do have the feeling you are in or near the wilderness. We have no motor restrictions on 3 of the 4 lakes. You can fish from our docks, by motorboat, canoe or kayak. Guide services are available. There are 3 streams either leaving or coming into the lakes. You can fish the Kawishiwi River which is in the Boundary Waters with excellent fishing. There is abundant structure for fishing in many parts of the chain of lakes. Even on windy days you can generally find a place to fish and relax. You do have the 11,000 acres of water to explore.
Fishing Packages!
We have many fishing packages available to our guests. View our Fishing Packages. We can accommodate most any desire, so if you have questions or wish more information please call 800-777-7348 or email us (info@timbertrail.com).